Old and clumpy... clumpy and old.
Don't you hate when you have to throw out a mascara because it's old before you actually get to use the whole thing? Now that I think about it, I don't think I have ever used an entire thing of mascara!!
Anyway, today was the day when I had to bid farewell to a few of my mascaras because their time had come. I thought it was a good opportunity to make a review video of the ones I was throwing out but when I made the video, I didn't like it. So to the blog it was!!
I'm going to start with my least favorite of the 3 which is wierd because I used this mascara all through high school and freshman year.
Firstly, I don't remember Great Lash ever having that wierd spiral wand tip when I used it in highschool.
Did they change it or am I going crazy?
I stopped using Great Lash for a while as I was trying different brands (see below for some of them.) When I recently returned back to Great Lash, I realized that it smudges EVERYWHERE!! You have to be very careful with this mascara or you will have a SERIOUS case of raccoon eyes in no time!!
Now, what I do like about Great Lash is that it is very black, very volumizing, and has enough lengthening to make me happy, but the smudge-factor is enough for me to not want to use it again. How did I make that work in high school??
The next one is a mascara that I've heard so much hype about that I had to give it a try.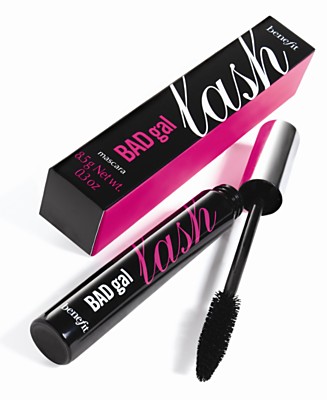 I can see why some people like Bad gal Lash. They probably have very thick lashes to begin with or maybe they have an extra half an hour in the morning to apply multiple coats of mascara. I'm not downing Bad gal Lash... in fact, I like it. It lengthens and seperates beautifully but if you need extra volume, this mascara is not for you. Unless you don't mind applying 2 or 3 coats and wiggling the heck out of the wand, because after all that effort, the result is gorgeous!! Very false lashes-ish. To me though, because of the effort and time it takes and the money it costs, I don't think I will be purchasing this mascara again.
The last one *tear* that I'm saying goodbye to today *tear* is my L'Oreal Double Extend with Lash Boosting primer *tear*. See my previous post regarding this beauty. I do however, have a bone to pick. It is already clumpy and too thick to use!! I bought this in early March and it's late April!! What's up with that??
So where does that leave me? I just purchased the Covergirl VolumeExact.
Watch my QOTW, Random Ramblings, and a CVS Haul video on my youtube channel, MissLoveAndLipgloss for details on how I got this on sale.
This mascara does exactly what its name implies. It will give you a whole lot of volume, not a lot of length. Con--smudge-y. Interesting tidbit--according to one blog I read, it is gluten-free. I didn't know cosmetics had gluten in them. You learn something new every day!!
What's next?
Can't wait to get my hands on this set!!
Until next time, love you for reading, dolls!! xoxo